Lincoln Log Cabin State Historic Site
402 South Lincoln Hwy Rd
Lerna, Il 62440
217.345.1845
e-mail: HPA.LincolnLog@Illinois.gov
*Only 8 miles south of Charleston, Il
Additional Links:
Charleston Tourism
Mattoon Tourism
Illinois Historic Preservation Agency
HOURS


November-March 9-4 Wednesday-Sunday
April-May 9-5 Wednesday-Sunday
Memorial Day -Labor Day 9-5 Every Day
September-October 9-5 Wednesday-Sunday
We are closed on Veteran's Day, Thanksgiving Day, Christmas Day, and New Year's Day
Living History Programming takes place between May 1st and October 31st with additional special events throughout the year. Grounds are open year-round 8:30 am until dusk


Welcome to 1845 Rural Illinois
Lincoln Log Cabin State Historic Site preserves the site of the 1840s farm of Thomas and Sarah Bush Lincoln, father and stepmother of our 16th president. Abraham Lincoln was a lawyer living in Springfield by the time his parents moved here in 1837, but he did visit them periodically.
Today, Lincoln Log Cabin is an 86-acre historic site that is owned and operated by the Illinois Historic Preservation Agency, Division of Historic Sites. The site includes an accurate reproduction of the Lincolns' two-room cabin that was constructed on the original cabin site in 1935 as a CCC (Civilian Conservation Corps) project. A working living history farm has been developed around the cabin, and a second farmstead, the Stephen Sargent Farm, has been moved to the site to help broaden visitors' understanding of 1840s rural life in Illinois. One mile north is the Moore Home State Historic Site, a reconstructed frame home where Abraham Lincoln bid his stepmother farewell in January of 1861 before leaving to assume the Presidency.
Moore Home Restoration Project

The Rueben Moore home is the site of Abraham Lincoln's last visit to Coles County where he dined with his stepmother, extended family, and friends. The existing structure, just one mile north of Lincoln Log Cabin, is a Civilian Conservation Corp project and is in need of restoration. 2011 marked the sesquicentennial of Lincoln's visit and farewell and provides a timely occasion for us to be actively preserving those links to our national story. The Lincoln-Sargent Farm Foundation is working to raise the funds necessary to begin this important work. For more information on how to contribute, please e-mail lsff@lincolnlogcabin.org.
Lincoln's last visit to Coles County featured in the New York TImes.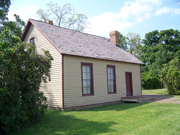 Upcoming Events!
Saturday, May 18, 2013, 10:00 am to noon
Children's Garden Opening
Kids can come out to the Sargent Farm on Saturday morning to be introduced to the Children's Garden and begin planting; weather permitting. There will be an inside activity planned if it is raining. The Children's Garden program will take place every Saturday except for Memorial Day weekend and will have activites designed for elementary- aged children. If older kids would like to be involved they can assist the younger children in a supervised volunteer capacity. See you out on the farm!
Perfect Father's Day Treat- Vintage Baseball and Antique Tractor Show!
Saturday, June 15, 2013
The Antique Tractor and Gas Engine Show will be held Saturday, June 15 from 10 a.m. to 4 p.m. The event is free and open to the public.Numerous antique tractors and gas engines from throughout the Midwest will be displayed, and a field will be plowed using an antique tractor and equipment. In addition to showcasing a variety of antique tractors this year, Lincoln Log Cabin will celebrate the small but efficient gas engines that provided stationary power to more than one million farms in America by 1914. The use of engines on the farm was the transitional factor for many farmers who then purchased tractors after witnessing the power and multiple uses of the gasoline engine in agriculture. The end of the 19th and beginning of the 20th century saw some of the greatest changes in farm labor which freed up men to pursue non-agricultural work, while the business of farming was made more efficient for those left on the farm. Farmers used these new 5-6 horsepower engines to saw wood, shell corn, thresh grains and chop silage for their cattle. Smaller engines were also used around the farm to pump water, and to operate milking equipment on dairy farms. These engines were also in some cases used to power batteries which provided the farm houses, and more importantly the barns, with electric lights, a rare sight in the country before the mid-to-late 1930s.
Vintage Baseball will be played by the RockSprings Ground Squirrels at 1:00 that afternoon. Bring dad out for a great day!

2013 Summer Youth Program
Pioneer Day Camp
Have you ever wondered what it would be like to be a pioneer? At Pioneer Camp, you will find out! During this week-long camp, students will dress, work and play just as children did in pioneer times! Students completing grades 3 – 7 will enjoy age-appropriate educational and recreational activities. Historical interpretation, hands-on demonstrations and skills, crafts and games, all based on the 1840s time period, and using the tools and techniques of that time. Each camp will have a maximum of 20 students to ensure individualized attention and learning opportunities. Click here for the brochure and details about registering.
Enduring Legacy: The Civilian Conservation Corps in Coles County, 1935-1941
This temporary exhibit celebrated the 75th anniversary of Lincoln Log Cabin and was on display in 2011 and 2012. Access the story here
Anniversary Ornaments are Here! We have a few left, purchase one soon!

How You Can Help
Please consider making a donation to help support the efforts of the Lincoln-Sargent Farm Foundation in maintaining vital education programming, producing special events, and meeting the needs of Lincoln Log Cabin to continue the preservation of our rural heritage. Click here to download a form for mailing or donate via PayPal:

Click here for a GPS Tour of Lincoln sites in Charleston!