Lincoln Log Cabin State Historic Site
402 South Lincoln Hwy Rd
Lerna, Il 62440
217.345.1845
e-mail: HPA.LincolnLog@Illinois.gov
*Only 8 miles south of Charleston, Il
Additional Links:
Charleston Tourism
Mattoon Tourism
Illinois Historic Preservation Agency
HOURS


November-March 9-4 Wednesday-Sunday
April-May 9-5 Wednesday-Sunday
Memorial Day -Labor Day 9-5 Every Day
September-October 9-5 Wednesday-Sunday
We are closed on Veteran's Day, Thanksgiving Day, Christmas Day, and New Year's Day
Living History Programming takes place between May 1st and October 31st with additional special events throughout the year. Grounds are open year-round 8:30 am until dusk


Welcome to 1845 Rural Illinois
Lincoln Log Cabin State Historic Site preserves the site of the 1840s farm of Thomas and Sarah Bush Lincoln, father and stepmother of our 16th president. Abraham Lincoln was a lawyer living in Springfield by the time his parents moved here in 1837, but he did visit them periodically.
Today, Lincoln Log Cabin is an 86-acre historic site that is owned and operated by the Illinois Historic Preservation Agency, Division of Historic Sites. The site includes an accurate reproduction of the Lincolns' two-room cabin that was constructed on the original cabin site in 1935 as a CCC (Civilian Conservation Corps) project. A working living history farm has been developed around the cabin, and a second farmstead, the Stephen Sargent Farm, has been moved to the site to help broaden visitors' understanding of 1840s rural life in Illinois. One mile north is the Moore Home State Historic Site, a reconstructed frame home where Abraham Lincoln bid his stepmother farewell in January of 1861 before leaving to assume the Presidency.
Moore Home Restoration Project

The Rueben Moore home is the site of Abraham Lincoln's last visit to Coles County where he dined with his stepmother, extended family, and friends. The existing structure, just one mile north of Lincoln Log Cabin, is a Civilian Conservation Corps project and is in need of restoration. 2011 marked the sesquicentennial of Lincoln's visit and farewell and provides a timely occasion for us to be actively preserving those links to our national story. The Lincoln-Sargent Farm Foundation is working to raise the funds necessary to begin this important work. For more information on how to contribute, please e-mail lsff@lincolnlogcabin.org.
Lincoln's last visit to Coles County featured in the New York TImes.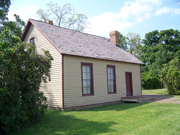 Upcoming Events!
Saturday, March 22, 6:00 pm :: Annual Dinner
Unique Suites Hotel in Charleston, Illinois. Join us as we commemorate the Civil War with the story of Ellen Craft, a slave woman disguised as a white man escaping to freedom. Author Doug Peterson and actress, Jennifer Goran, will present the story captured in Peterson's novel titled, The Vanishing Woman. Please join us for an exciting evening of history, food, and fundraising. A silent auction with unique items related to Lincoln Log Cabin State Historic Site, the Civil War, and 19th-century life will be offered. Tickets are $60 per person, a table of eight may be purchased for $400, please reserve your tickets by e-mailing the Foundation at: lsff@lincolnlogcabin.org or calling 217-345-1845 or pay by credit card via PayPal by clicking on the "donate" button below right.
Click here for more information regarding Peterson and Goran's presentation.
Enduring Legacy: The Civilian Conservation Corps in Coles County, 1935-1941
This temporary exhibit celebrated the 75th anniversary of Lincoln Log Cabin and was on display in 2011 and 2012. Access the story here
Remember your visit by taking home a commemorative ornament!

How You Can Help
Please consider making a donation to help support the efforts of the Lincoln-Sargent Farm Foundation in maintaining vital education programming, producing special events, and meeting the needs of Lincoln Log Cabin to continue the preservation of our rural heritage. Click here to download a form for mailing or donate via PayPal:

Click here for a GPS Tour of Lincoln sites in Charleston!