Lincoln Log Cabin State Historic Site
402 South Lincoln Hwy Rd
Lerna, Il 62440
217.345.1845
e-mail: HPA.LincolnLog@Illinois.gov
*Only 8 miles south of Charleston, Il
Additional Links:
Charleston Tourism
Mattoon Tourism
Illinois Historic Preservation Agency
HOURS


November-March 9 am-4 pm Wednesday-Sunday
April-August 9 am-5 pm
Wednesday-Sunday
September-October 9 am -5 pm Wednesday-Sunday
We are closed on Veteran's Day, Thanksgiving Day, Christmas Day, and New Year's Day
Living History Programming takes place between May 1st and October 31st with additional special events throughout the year. Grounds are open year-round 8:30 am until dusk

Welcome to 1840s Rural Illinois
Lincoln Log Cabin State Historic Site, part of the Abraham Lincoln National Heritage Area, preserves the 19th century home of Thomas and Sarah Bush Lincoln, father and step-mother of our 16th president. Abraham Lincoln was a lawyer living in Springfield by the time his parents moved here, but his burgeoning law practice often brought him to Charleston and the farm, especially during the 1840s. Abraham Lincoln also owned a portion of the farm which he deeded back to his father and step-mother for their use during their lifetime.

Today Lincoln Log Cabin is an 86-acre historic site that is owned and operated by the State of Illinois, managed by the Illinois Historic Preservation Agency, Division of Historic Sites. The site includes an accurate reproduction of the Lincolns' two-room cabin that was reconstructed on the original cabin site in 1935-1936 as a Civilian Conservation Corps (CCC) project. The National Park Service oversaw the creation of Lincoln Log Cabin State Park with CCC labor. The CCC camp, Camp Shiloh, was located within the park's boundaries and its enrollees were WWI veterans. Today the ten acres in the northwest corner of the park where Camp Shiloh was located is listed on the National Register of Historic Places.

A working, living history farm has been developed around the cabin, and a second historic farmstead, that of Stephen and Nancy Sargent, has been moved to the site to help broaden visitors' understanding both of life in the 19th century and Lincoln's legal practice in the community. The site also includes the Moore Home, where Lincoln bid farewell to his family in 1861 before leaving to assume the Presidency, and the gravesites of Thomas and Sarah Lincoln at the Thomas Lincoln Cemetery.
Moore Home Restoration Project

The Rueben Moore home is the site of Abraham Lincoln's last visit to Coles County where he dined with his stepmother, extended family, and friends. The existing structure, just one mile north of Lincoln Log Cabin, is a Civilian Conservation Corps project and is in need of restoration. 2011 marked the sesquicentennial of Lincoln's visit and farewell and provides a timely occasion for us to be actively preserving those links to our national story. Lincoln Log Cabin Foundation is working to raise the funds necessary to begin this important work. For more information on how to contribute, please e-mail lsff@lincolnlogcabin.org.
Lincoln's last visit to Coles County featured in the New York TImes.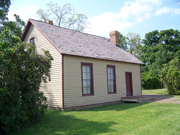 ______________________________________________________________________________________________________________________________

Upcoming Events!
Phoebe Florville- Saturday, September 19, 1:30 p.m. Visitor Center Auditorium. Kathryn Harris will portray Pheobe Florville, the wife of Lincoln's barber, "Billy the Barber." Her presentation is in partnership with Lincoln's Trial and Tribulations dinner theatre event in Oakland, Il. Details of that event and others can be found at: www.matsontrial1847.org

Harvest Folic 2015- Celebrate the Arrival of Autumn at the Harvest Frolic!
September 26 and 27, 2015- 10:00 am to 4:00 pm
Returning this year- the Frolic 5K and Walk! Saturday at 9:00 am
Don't miss experiencing 19th-century life on the farm! Activities will take place at both the Lincoln and Sargent farms and will include children's games, crafts, and hearth cooking. Visitors are encouraged to take part in period games and activities. A number of artisans will be on site demonstrating their crafts including, woodcarving, flax processing, embroidery, pottery, blacksmithing, tinsmithing, wheat weaving, dulcimer making, and tatting. Special presentations will include oxen pulling by Gerry Barker, a 19th-century medicine show, period fashion shows, "Lincoln Tales" by Brian "Fox" Ellis, and a puppet show by Ollie DePriest. In commemoration of the sesquicentennial of the end of the Civil War, an encore appearance by the Un-Reconstructed String Band will take place all day both days. Food will be available from Smoky's BBQ of Charleston, pies from the Fillin' Station of Toledo, and Kettle Korn.
Details and registration for the 5k and walk available at www.lincolnlogcabin.org/frolic5k.pdf
Online registration available at active.com
______________________________________________________________________
Enduring Legacy: The Civilian Conservation Corps in Coles County, 1935-1941
This temporary exhibit celebrated the 75th anniversary of Lincoln Log Cabin and was on display in 2011 and 2012. Access the story here
Stop by the Goosenest Prairie Gift Shop to take home a souvenir!

How You Can Help
Please consider making a donation to help support the efforts of the Lincoln Log Cabin Foundation in maintaining vital education programming, producing special events, and meeting the needs of Lincoln Log Cabin to continue the preservation of our rural heritage. Click here to download a form for mailing or donate online with your personal credit card: Donate Now

Click here for a GPS Tour of Lincoln sites in Charleston!